MARILYN ROSE REYNOLDS
RECIPES TO REMEMBER HER BY
Marilyn's Cream Cheese Strudel
1 cup all-purpose flour
1/8 tsp salt
˝ cup butter
4 oz cream cheese
fruit preserves (apricot, raspberry, strawberry, etc.)
walnuts
shredded coconut
Dough: Make the dough the day before you bake the strudel. Sift flour with salt. Cut butter and cream cheese into small pieces. Cut butter and cream cheese into flour with a pastry blender until they are well blended or use a food processor and pulse until the mixture clumps. Form into a ball, wrap and refrigerate until well chilled or overnight.
Strudel: Cut the dough into 4 pieces, roll and form one piece at a time, keep the rest in the refrigerator until needed. Roll out onto a lightly floured board until thin. Spread half of one long side with about 1/4 cup fruit preserves, top with chopped nuts and coconut and roll up fairly tightly. Place on ungreased baking sheet or on parchment paper with seam down. Cut slits in the dough (approximately every half inch) part way through (less than 1/4 of the way – do not cut through to the bottom of the roll) and bake at 375 for about 30 to 35 min. Cool on pan for about 10 min, then sprinkle with powdered sugar. Complete cutting when thoroughly cooled.
1 cup sugar
˝ cup oil
1 tsp vanilla
1 tsp salt
3 eggs, well beaten
1 tsp. baking powder
3 to 3 ˝ cups flour
˝ cup almonds, chopped
˝ tbsp orange rind, optional
˝ tbsp lemon rind, optional
Cream sugar and oil. Add eggs, vanilla and salt. Sift baking powder and flour. Add dry ingredients, 1 cup at a time. Add chopped almonds and rinds. Form long rolls. Bake at 375 degrees for about 25 to 30 minutes on an oiled sheet until browned. Remove from oven. Slice into ˝ inch thick slices. Dry in oven for 5 minutes.
8 oz medium egg noodles, cooked
2 cups whole milk
1 large cream cheese
4 eggs
1 stick butter, softened
1 tsp salt
3 tbsp sugar
golden raisins
crushed corn flakes
Cream cheese and butter till soft. Add sugar, salt and milk. Add beaten eggs. Add noodles and raisins. Pour into hot buttered casserole. Sprinkle with corn flakes. Bake in hot 350 degree oven until firm, about 30 to 40 minutes.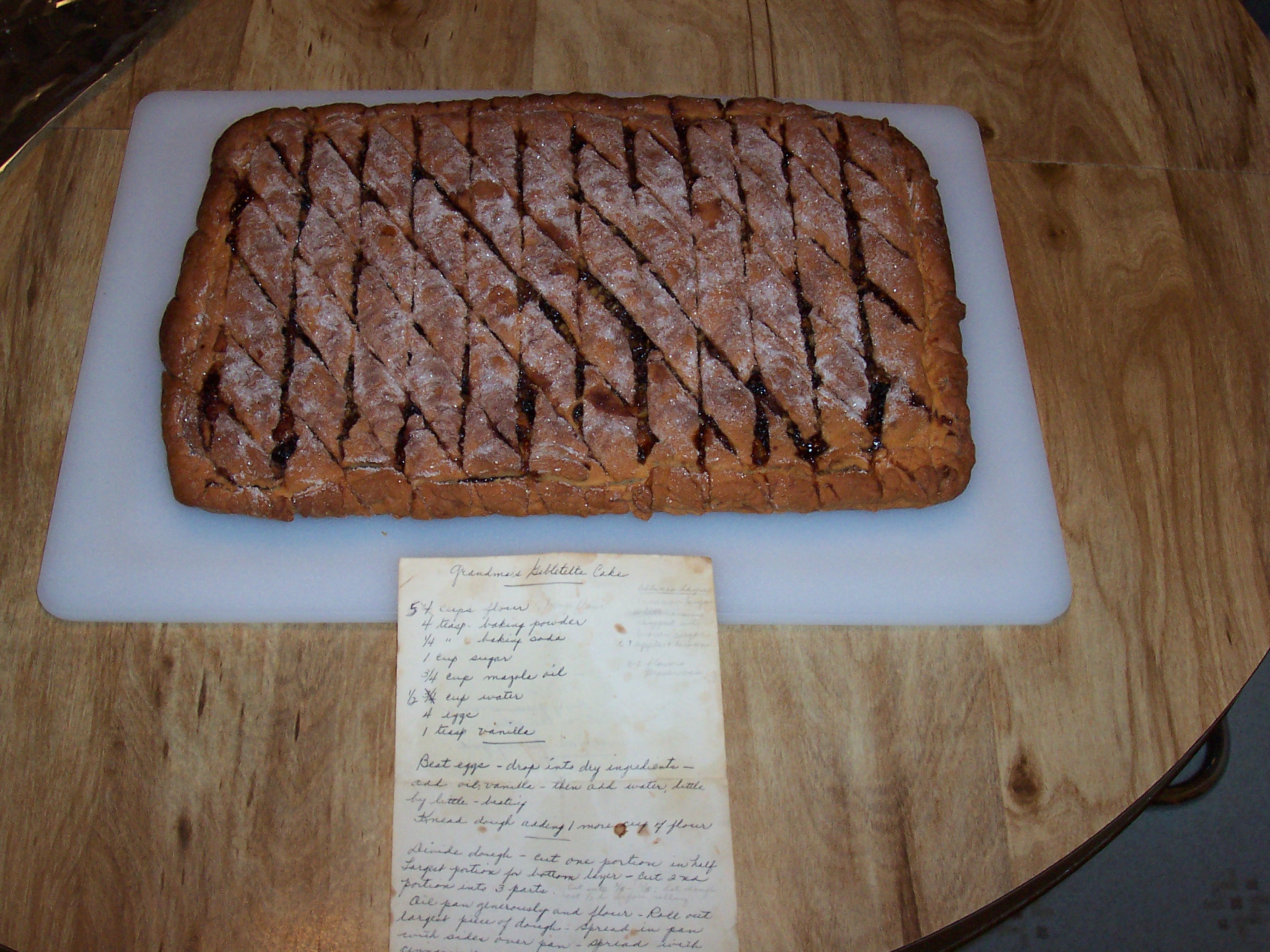 Bertha Rose made a cake that was legendary among her grandchildren. We don't know whether it was a family recipe or something she made up. We all remember it fondly. Although Marilyn never made it, her niece Marietta made a labor of love out of preparing this for the Memorial. The recipe was written down by Marilyn's sister Shirley (Marietta's mom) while Shirley and Marietta's daughter Pamela watched Bertha prepare the cake. It is very complicated and takes days to complete. Marietta will probably have further edits to this for "nuance"!
For Cake:
4 to 5 cups flour, start with 4 cups
4 tsp baking powder
1/4 tsp baking soda
1 cup sugar
3/4 cup Mazola Oil
1/2 cup water
4 eggs
1 tsp vanilla
Between Layers:
Cinnamon
Sugar
White or golden Raisins
Chopped walnuts
Brown sugar
6-7 apples peeled and sliced thin and tossed with lemon juice (3 apples per layer) (Note, drain when ready to use and pat dry)
2 different preserves, ie, cherry and apricot or raspberry and peach.

Beat eggs, drop into dry ingredients. Add oil, vanilla, then add water, little by little, beating. Knead dough, adding up the fifth cup of flour if necessary. Divide dough into halves. Then divide one of the halves into 3 parts. This should give you 4 pieces of dough - 1 large one for the bottom layer and 3 small ones of even size. Oil a jelly roll pan generously and flour. Roll out largest piece of dough. Spread in pan, leaving extra on the sides at the top of the pan (you will incorporate this extra dough at the end). Place a layer of apples in the pan and then top with cinnamon and sugar, raisins, nuts and brown sugar. Roll out a small piece of dough and create a new layer. Add apples, one of the preserves, nuts, spices and sugars to this layer. Repeat with the second piece of small dough, using a different preserve this time. Roll out the last piece of dough and place on top to cover. Bring the excess dough from the bottom over the top layer and pinch it together. Cut partway through the top piece of dough to create a diamond pattern. Sprinkle generously with cinnamon and sugar. Bake at 350 degrees for 1 1/2 hours. (Note, cover with tin foil after the first hours or as it browns.) Cool in pan for at least 24 hours. (I'm not kidding!) Do NOT put in the fridge - leave at room temperature covered loosely with tin foil. When ready to cut, flip into a larger pan and then flip again onto a cutting board. Use the diamond cuts as a guide for cutting the cake. (Note, the edges will be very hard and difficult to cut. They are delicious dipped into tea!)